Barcode Label Maker 6.0.1.5
Barcode label maker application provides facility to scan all images, tags and labels with help of barcode scanners and printers for various types of organizations as small, medium and large scale to increase security level, fast responses and making decisions quickly. Barcode image producer utility is widely used and easily works without making any requirement of technical knowledge and skills and it can be efficiently used by entire users.

Barcode Mark Package 6.0.1.5
Affordable barcode image designing software offers many methods including random, constant value and sequential series for producing bulk barcode labels in few seconds. Easy to use barcode mark package tool uses many designing objects like rectangle, line and ellipse for generating stylish assets tags. Advanced barcode ticket building utility is applicable in various business areas such as inventory management, invoice details and price labeling.

Barcode Label Maker Software 6.0.1.5
Customized barcode label maker application is designed to generate industry standard product security images with full support to all major Windows Operating System including Windows 7, XP, Vista, 2000, 2003, 2008 etc. Barcode label designing utility successfully produces commodity barcode labels security ribbons and facilitates to copy or paste generated asset tags at specified Windows application including MS Word, Paint or Excel and many more.

Barcode Tag Software 6.0.1.5
2010 (Professional) barcode tag producer utility is fully reliable to design, convert, and print professional labels by printers. Barcode image generator tool easily makes good looking barcode stickers and provides options to use several customizable modes which offers facility to modify heading color, caption font, barcode image, background color and bar code size of created barcode labels as well as can copy all details on single page.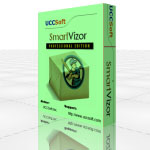 SmartVizor Barcode Label Printing 12.2.10.72
SmartVizor is an advanced variable data, easy to use, WYSIWYG barcode label printing software that prints variable data barcodes, text and graphics on thermal transfer bar-code printer labels in addition to labels on standard laser or inkjet printers.You can use almost any database format with SmartVizor?Dbase (.dbf),Microsoft FoxPro (.dbf),Paradox (.db),Microsoft Excel (.xls),delimited ASCII (.csv, .txt).Also provides ODBC.
StrokeScribe 2.3.6
Rapidly integrate CODE128, EAN-13, PDF417, I2OF5, CODE 93 or Data Matrix barcodes into your documents using ActiveX. Development environments supported: Microsoft Visual C/C++, Borland Delphi/Builder, Microsoft FoxPro/Visual Basic. May be used in .NET applications as a COM object.
Business Barcode Maker 6.0.1.5
Affordable barcode label creating utility prints multiple copies of dissimilar barcode stickers on single paper with support to any ordinary printers. Business barcode maker application saves designed barcode images in any commonly used picture format like jpeg, tiff, Bitmap, png, wmf, emf, and gif. Barcode image builder software produces number of barcode label in bulk using linear, random and constant value method according to user requirement.
Easy Barcode Creator 1.0.1
Easy Barcode Creator is efficient to generate barcodes comprises of linear and 2 dimensional symbologies in minimum time. With Easy Barcode Generator you can custom barcode height, width, background and foreground color, whitespaces and border, also you can rotate barcode.
Free Barcode Software 6.0.1.5
Technically developed barcode image generator program creates most comprehensive and affordable barcode label to fulfill business needs of large, mid or small level industries. Free barcode software provides easy to create interface and several barcode image creation options that need just few clicks to develop versatile barcode tags. Best barcode developer program makes barcode tags that are editable hence bulk generation of barcode tag is easy.
MIE Maintenance CMMS Software 2010-2
MIE Maintenance is a revolutionary Machine and Equipment maintenance and preventive maintenance application. This software helps companies in asset intensive industries maintain their investments by managing these assets. MIE Maintenance handles both maintenance requests and predefined maintenance tasks to notify your maintenance teams to perform work.
Pages: 1 2 3 4 5 6 7 &gt&gt 47
---
Submit Software | Contact Us

© Copyright TheDirectory team, 2004. All rights reserved.